High Court Of Bombay At Goa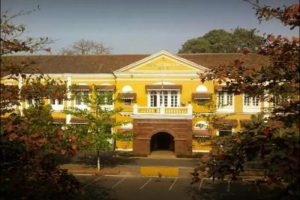 Prior to the Liberation of Goa Daman & Diu, the highest Court for the then Union territory was the "Tribunal de Relacao" functioning at Panaji. This Tribunal de Relacao was abolished when a Court of Judicial Commissioner was established with effect from 16th December 1963 under the Goa Daman & Diu (Judicial Commissioner Court) Regulation, 1963. In May 1964, an Act was passed by the Parliament which conferred upon the Court of Judicial Commissioner some powers of the High Court for the purposes of the Constitution of India.
Parliament by an Act extended the jurisdiction of High Court at Bombay to the Union territory of Goa Daman & Diu and established a permanent Bench of that High Court at Panaji on 30th October 1982.
From its inception, the Hon'ble Shri Justice Dr. G.F.Couto, who was at that time acting Judicial Commissioner was elevated to the Bench of High Court of Bombay. The Hon'ble Shri Justice G.D.Kamat was elevated to the Bench on 29th August 1983.
Once Goa attained statehood in 1987, the High Court of Bombay became the common High Court for the states of Maharashtra and Goa and the Union territories of Dadra & Nagar Haveli and Daman & Diu.
This High Court was shifted from the old building of "Tribunal de Relacao" to the Lyceum Complex at Altinho, Panaji and started functioning there from 3rd November 1997. The main renovated building at the said Complex, constructed in the year 1925 by the Portuguese Government, was inaugurated by the Hon'ble Chief Justice of Bombay High Court Shri M.B.Shah on 2nd October 1997. The total amount incurred for renovation of this building alone is Rs.1,72,64,393/-. The Hon'ble the Chief Justice of Bombay High Court, Shri Y.K.Sabharwal, inaugurated the 2nd building on 9th September 1999. Both these buildings now house several departments of the High Court.