After independence the erstwhile princely States of Rajputana were integrated into the State of Rajasthan. Before inauguration of State of Rajasthan these princely States had their own High Courts and subordinate Judicial setup. A committee consisting of Shri B.R.Patel, Lt. Col. T.C.Puri and Shri S.P.Sinha recommended that Jaipur should be made capital of the new State and the High Court should be located at Jodhpur.
State of Rajasthan was inaugurated on March 30, 1949 and at that time five High Courts functioning at Jaipur, Jodhpur, Bikaner, Udaipur and Alwar were abolished by the Rajasthan High Court Ordinance, 1949 and High Court of Judicature for Rajasthan was inaugurated at Jodhpur by Rajpramukh His Highness Maharaja Sawai Man Singh on 29.08.1949 and oath was administered to 11 Hon'ble Judges. Initially High Court also sat at Jaipur, Udaipur, Bikaner and Kota.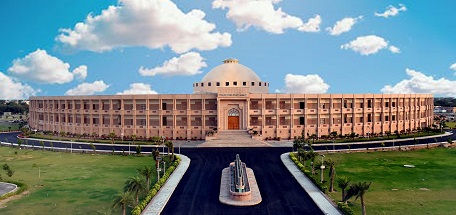 On 26th day of January, 1950 the Constitution of India was enforced and the strength of Judges was reduced to 6. Further benches at Bikaner, Kota and Udaipur were abolished from 22.05.1950 but Jaipur Bench continued to function.
Subsequently, under section 49 of States Reorganization Act, 1956 a new High Court came into being as the High Court of Rajasthan with Principal Seat at Jodhpur. On report of committee consisting of Sarva Shri P.Satyanarain Rao, V.Vishwanathan and B.K.Gupta the Jaipur Bench was abolished in the year 1958. Vide the High Court of Rajasthan (Establishment of a Permanent Bench at Jaipur) Order, 1976, the Bench of Rajasthan High Court was again established at Jaipur and started functioning from 30.01.1977.
Rajasthan High Court has a sanctioned strength of 50 Hon'ble Judges.
The magnificent new building of Rajasthan High Court at Jodhpur was inaugurated by Hon'ble President of India on 07.12.2019. The new building has 22 court rooms.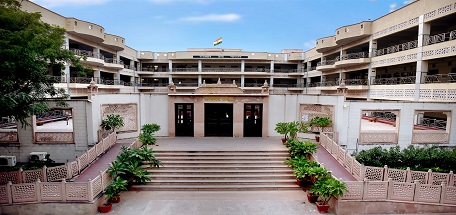 The Bench at Jaipur is presently working in building constructed in the year 2006 which is adjacent to old heritage building.
Both the court buildings at Jodhpur and Jaipur have total 46 Court Rooms.
Rajasthan has 36 Judgeships having more than 1250 subordinate courts.
Hon'ble Steering Committee (Computer Committee)
Significant Achievements
---
GET IN TOUCH
Rajasthan High Court Principal Seat Jodhpur
Phone: 0291-2888500-04
E-mail: hc-rj[at]nic[dot]in
Rajasthan High Court Bench Jaipur
Phone: 0141-2227124
E-mail: hcjaipur-rj[at]nic[dot]in