Rajasthan High Court E-Services Mobile App for Android and iOS
Updated version of Rajasthan High Court e-Services Android Mobile Application and new version compatible with iOS platform were launched in the month of September 2019.
This updated mobile application (Android & iOS) has facility of various case related information alongwith unique feature 'MY DIARY' through which any Advocate can make e-diary of his cases which updates automatically every day. Search of cases within my diary may be made. My diary also shows the details of listing of the cases. If any new judgment or order is uploaded in any of the case saved in my diary, it gives alert of the same.
Free Text Search facility on the contents of about 12 lac judgments of High Court is also available in app. The search has advanced features including 'Boolean Search' and 'search within search'.
The App also gives updated information of following in a user friendly manner-

Cause List
Filing/Defect Status
Case Status
Copying Status

Search in the App may be made on various parameters including filing number, case number, Advocate Name, Party Name etc.
Rajasthan High Court e-Services Android Mobile Application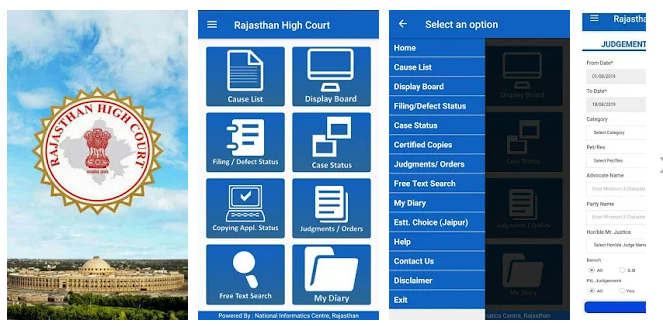 iOS App