Software of High Court of Karnataka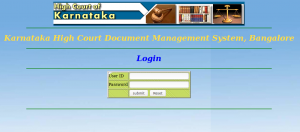 HCKDMS
A portal to upload digitally signed Judgements / Decrees by PS to Hon'ble Judges and the same is verified and released by the Printing Section. Search Option is available on various search criteria and full text search is also enabled.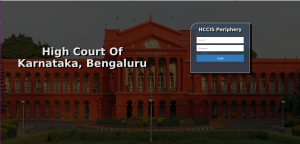 HCCIS Periphery Modules
Services included in HC CIS Core Application
Updation of Current heard/ passed over cases/ Announcement of Court Hall for display Board.

Cause List Entry/Generation

LokAdalat Cause List Entry/Generation

Module to list appeals registered by trial court.

Statistical Reports of Filing, Disposal, Pendency with multiple search parameters.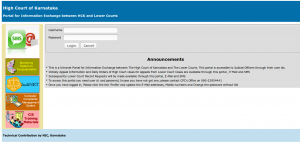 HC-2-DC
ICT is extended for information exchange between High Court to Lower Court. SMS is sent to concerned to subordinate Court on appeal from High Court , LCR Request in High Court Appeal Cases is Disposed.
SMS/E-mail to district courts intimating the appeals filed on the order of the concerned district courts, disposals made on such appeals, Request made on LCR. Profile Updation by the trial court judicial officers, Software Technician.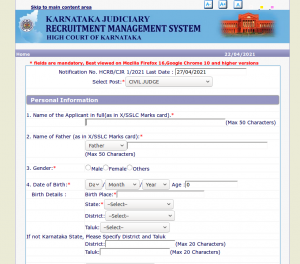 On-line Recruitment Management System
Manual Application received from the candidates for the posts District judge, Civil Judge, Asst. Court Secretary , SDA, Stenographer, Typist, Drivers and Peons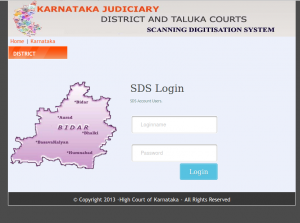 KJDMS
Scanning Records and save in PDF Format and applying DSC. Integration with CIS and HCCIS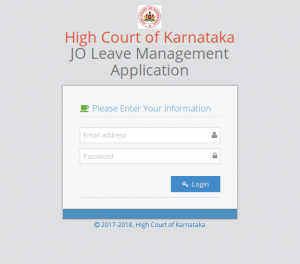 Leave Management System
Online Application of various type of Leave (CL,EL,EOL, PL, ML) used by Judicial Officers.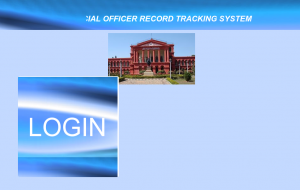 Service details, Posting details, Training Based on schedule at KJA , Induction Programme of Other State
This software is used to collect the movement of the judicial files from one branch to another and court halls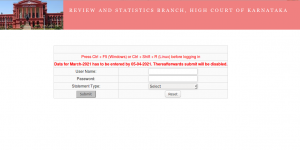 Review and Statistic Disposal and Pendency Report
Generation of Various statement requested by Supreme Court can be accessed by the said Software.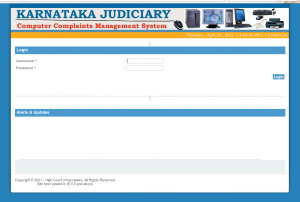 Computers Complaints Management System (CCMS)
Management and Monitoring of Assets and Hardware related calls day to day basis.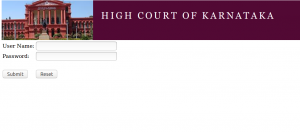 Stationery Branch – Articles, Forms, ID Cards
Tracking of Articles, Forms, ID Cards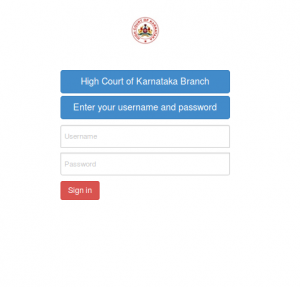 Furniture Stock Module

Tracking of Furniture Allotted, Various Reports on Articles, Branches, Article Type is automated.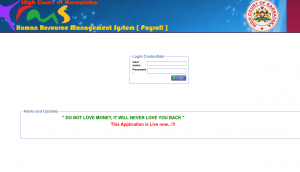 Human Resource Management System HCK
Developed, Maintenance and Support – Hon'ble Judges and Staff salary and other bills. Calculation and generation of Income Tax form16 for all High Court Officers/Officials.
Support – Bio-metric Server and attendance monitoring and maintenance- Enrolment of transferred staff and modification of finger print request to change.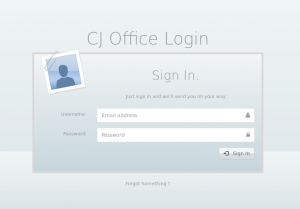 Tappal Tracking System
Tracking of Administration Circulars, Notifications and Memos.

VC SCHEDULE
Scheduling of VC as per the Causelist is automated.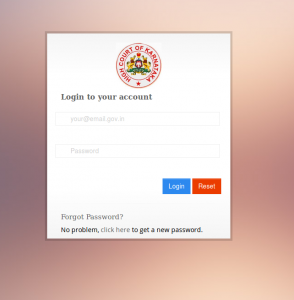 Dashboard and Work Diary
Dashboard and Work Diary for Technical and Non-Technical Resources.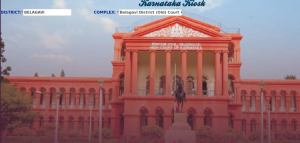 KIOSK Dashboard
The Kiosk page is developed that redirects to the respective District court KIOSK page based on selected District and Court Complex rather than remembering IP of each District. The same application shall be deployed in Jails to check the case status.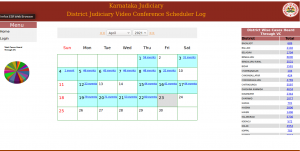 Video Conference Scheduler Log
For collecting the No. of cases heard, decided through VC from each court of district and taluka.
And this information is used for sending to the Hon'ble Supreme court and Department of Justice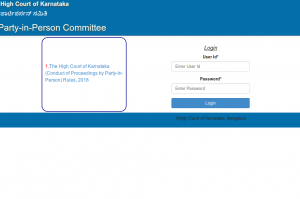 Party in Person Committee
Collection the party-in-prison committee proceedings and generating the FORM-C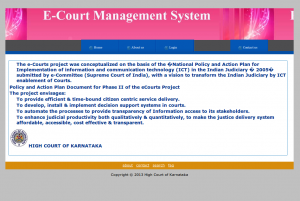 Quarterly Statement and sms monthly entry
Collection of Data for quarterly Statement and sms entry every month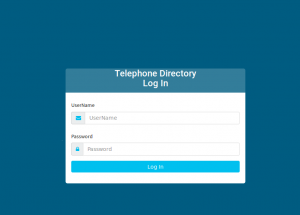 Telephone Directory
Contact Details of Hon'ble Judges, Supreme Court Judges, District Courts and Other miscellaneous Departments