Best practices of the High Court of Tripura under e-initiatives
1. Automated Performance evaluation system for the Judicial Officers through PESJO application:
In December, 2020 the High Court of Tripura has launched an in house developed software namely, PESJO (Performance Evaluation System of Judicial Officer) for monitoring the quarterly performance of the Judicial Officers in terms of disposal of cases pending during a quarter. This is a completely paperless performance evaluation system wherein the Judicial Officers need to make data entry of institutions, pendency and disposal of cases in the Court held by them during a given quarter and the software itself will calculate the units obtained for disposal and award appropriate grade to the officer concerned on the basis of the bench mark of disposal of cases fixed by the High Court. Separate logins have been created for the Judicial Officers, Hon'ble Portfolio Judges and the Hon'ble Chief Justice in the said application.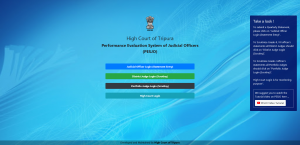 2. Justice Clock web version:
Recently the High Court of Tripura has launched a web version of the Justice Clock installed at the High Court premises in its website for facilitation of real time circulation of various data of cases and other e-initiatives.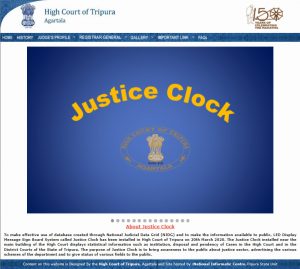 3. Online application system for recruitment by the High Court:
The High Court of Tripura is having an online application system integrated with its website for the purpose of facilitation of submitting online applications by the aspiring candidates alongwith online payment of application fees with respect to the recruitment of various posts in the Registry as well as the examinations conducted by the High Court for recruitment in Tripura Judicial Service (Grade-III). The online application portal was launched in September, 2020 and now the portal is being integrated with the Digital Seva portal of CSC e-Governance.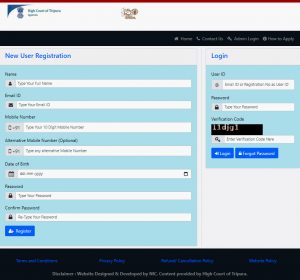 4. Periphery Report Module in District Court CIS:
Recently the High court of Tripura has launched a periphery module in the District Court CIS 3.2 for facilitation of the generation of as many as 23 different categories of reports by fetching the courts data from the local server of all the court complexes of Tripura. This module has been developed with an aim to reduce time consumption and man power involvement and as a step towards process automation in information gathering.