Vision document for Phase III of eCourts Project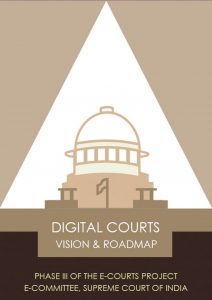 The e-Committee of the Supreme Court has been overseeing the implementation of the e-Courts Project, conceptualized under the "National Policy and Action Plan for Implementation of Information and Communication Technology (ICT) in the Indian Judiciary-2005". It is the mission mode project carried out by the Department of Justice.
The e-Committee has evolved in terms of its roles and responsibilities over the last fifteen years. The objectives of the e-Committee include:
• The Interlinking of all courts across the country.
• ICT enablement of the Indian judicial system.
• Enhancing judicial productivity.
• Making the justice delivery system accessible, cost-effective, transparent, and accountable.
• Providing citizen-centric services.
As Phase-II will soon conclude, the vision document for Phase III is prepared. This Vision Document outlines an inclusive, agile, open, and user-centric vision for courts in Phase III of the e-Courts Project.
Phase III envisions digital courts that deliver justice as a service to all, beyond simply replicating offline processes digitally. The use of technology in the judiciary is therefore guided by two facets central to Gandhian thought—access and inclusion. In addition, the core values of trust, empathy, sustainability, and transparency provide the guardrails for achieving the founding vision.
Building over the advancements made in Phases I & II of the project, this document articulates the need to exponentially advance the digitization of courts by (a) simplifying procedures, (b) creating a digital infrastructure, and the (c) establishment of the right institutional and governance framework, such as technology offices at various levels to enable the judiciary to appropriately employ technology. It articulates key goals for putting in place the digital infrastructure and services for Phase III.
This vision document envisions a platform architecture for technology that will enable diverse digital services to further evolve over time at scale. It also is designed to take an ecosystem approach that leverages the existing capacities in different stakeholders such as civil society leaders, universities, practitioners, and technologists to realise this future.
Click here to read the Vision Document.