Email Notification Updates for whole Life Cycle of the Case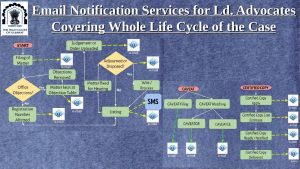 Email notifications for listing of matters and order judgment uploading were already being sent to all learned advocates. During the pandemic crisis, due to the challenges faced in physical reach to the premises; Honourable the ICT & eGovernance Committee headed by Honourable the Chief Justice, directed to give special emphasis to share maximum case updates through email notifications. Accordingly, automatic transmission of email notifications to learned advocates and Parties in person on events like filing, registration, Scrutiny, Disposal, uploading of orders and judgments and process issuance were developed and implemented. Digitally signed Bail Orders were started to be automatically sent to the concerned Subordinate Court and the learned advocates upon launch of eWrit module of the High Court periphery software.
Email notifications upon caveat filing, caveat matching and progress of certified copies have proved to be a real value addition to these services for the learned advocates. Now, the whole life cycle of a High Court case is covered with email notification on all events and updates in the case. As per the vision of Honourable the Chief Justice and guidance of Honourable Judges of the ICT & eGovernance Committee of the High Court, the push to emphasize the email based services continue further; with implementation of email notifications for filing, registration, next date, disposal and order judgment uploading for all the Subordinate Courts of the State.