TSHC – e-Visitor Pass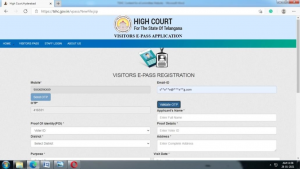 The High Court has introduced an online based e-Visitor pass portal for all the visitors of the High Court such as Litigants, representatives of various agencies, suppliers, vendors, etc. These visitors can obtain the computerized e-Visitor Pass from the dedicated portal hosted on the Official Website of the High Court.
Every pass issued by the e-Visitor Pass online system/Security Reception Centre will be numbered for identification for future reference. Similarly, the Visitors do not need to enter the full details in the subsequent visits to the High Court premises. The e-Visitor Pass helps the High Court in identifying the visitors, controlling the movements of the visitors in the High Court premises and to assess the footfall of the visitors in a particular period.