High Court Of Bombay-Nagpur Bench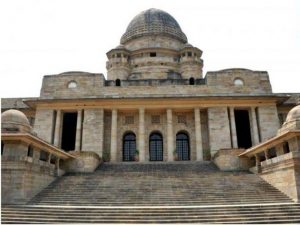 Nagpur is an industrial and commercial city situated in the centre of India. Formerly, it was the capital of the former State of Madhya Pradesh and now it is the sub-capital of the State of Maharashtra.
A full-fledged High Court was established at Nagpur on 9th January 1936. Sir Gilbert Stone,a Judge of the Madras High Court was appointed as its first Chief Justice. The foundation stone of the new building (the present High Court building) was laid by late Sir Hyde Gowan on 9th January 1937. The building was designed by Mr. H.A.N. Medd, Resident Architect. It was constructed at a cost of Rs.7,37,746/-. The building consisted of two storeys with a garden courtyard in the centre. The outside dimensions are 400 ft x 230ft. The original design provided for a main central dome rising 109 feet above ground, the remainder of the building being approximately 52 feet in height. The building has been constructed with sandstone. The building has ashlar stone facing and brick hearting. The flooring in the corridors and offices is of Sikosa and Shahabad flag stones. The building was opened on 6th January 1940. At the opening ceremony, the Viceroy of India described this building as a poem in stone. The High Court has well-planned gardens on the eastern as well as western sides.
The High Court of Judicature at Nagpur continued to be housed in this building till the reorganisation of States in 1956. With effect from 1st November 1956, eight Marathi-speaking districts of Vidarbha formed part of the greater bilingual State of Bombay. The remaining fourteen Hindi-speaking districts of the former State of Madhya Pradesh became part of the newly constituted State of Madhya Pradesh with its capital at Bhopal. The High Court of Madhya Pradesh was treated as successor of the former High Court at Nagpur.
A Bench of the High Court at Bombay began to sit in this building at Nagpur with effect from 1st November 1956 and continues to do so even after the formation of the State of Maharashtra on 1st May 1960.
The extension of High Court building consists of two annex buildings on both sides of the existing building viz., the North and South Wings. For this Government of Maharashtra has sanctioned Rs.1,29,26,605/- on dated 21st March, 1983. The South Wing houses various utilities for public, i.e. litigants and the Bar as well as High Court Government Pleader's Establishment including Standing Counsel for Central Government and `A Panel Counsels, and also for the establishment. In the North Wing, it is proposed to accommodate additional Court Halls, Chambers of the Hon'ble Judges, Judges' Library and the office.