NATIONAL JUDICIAL DATA GRID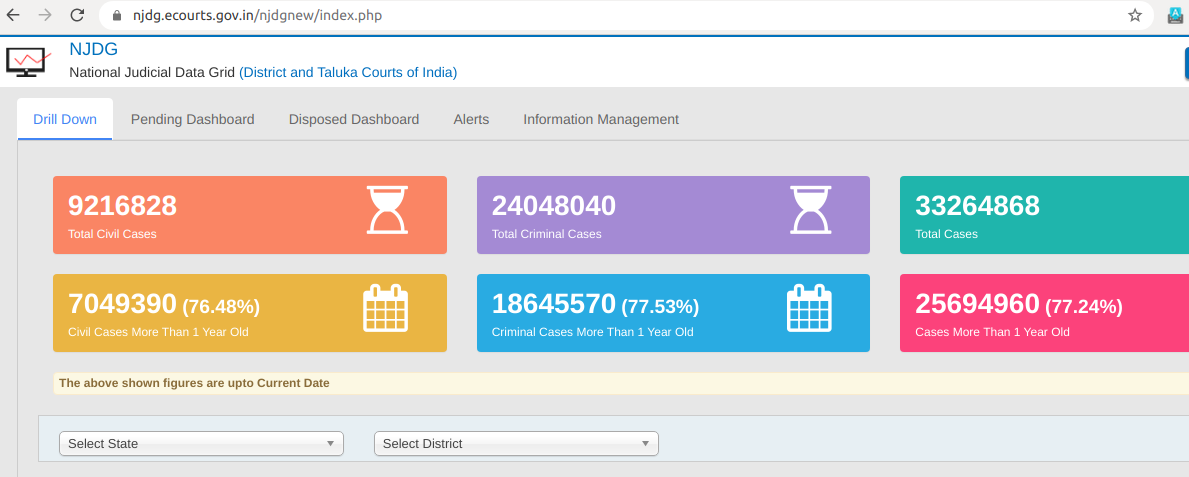 NJDG, a flagship project implemented under the aegis of the eCourts project, has been recognized as a significant innovation under the Ease of Doing Business initiative of the Government of India. The portal is a national repository of data relating to cases pending and disposed of in all district and taluka courts of the country. The portal has been developed around the concept of elastic search technology enabling efficient case management and monitoring of cases leading to effective disposal of cases.
Data uploaded and collated on the portal can be accessed and analysed:-
Category wise
Year-wise
State-wise
Month-wise disposal of cases across institutions
Across the original/appellate/execution stages of a litigation
Reasons for delay
NJDG gives the consolidated figures of cases instituted, disposed and the pendency of cases in all courts across the country. These statistics are updated every day by respective courts. The website shows the number of cases filed as well as cases pending. The visitor can access information down to a particular case. The pending cases divided between civil and criminal jurisdictions can be further segregated into age-wise categories such as ten years old cases, between 5 to 10 years old cases etc. The pendency data at the national, state and district levels are open and in the public domain.