2022 National Gold award for excellence in providing Citizen Centric Delivery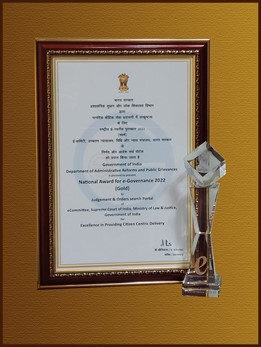 The e-Committee of the Supreme Court of India and Department of Justice was awarded the prestigious National Gold Award for excellence in providing Citizen Centric Delivery with a cash prize of Rs. 5 Lakh, a trophy and a Certificate for Judgement & Orders Search Portal by the Department of Administrative Reforms and Public Grievances. At the 25th National Conference on e-Governance (NceG) held in Jammu on 26 November 2022, the said award was presented by Dr Jitendra Singh Union Minister of State (Independent Charge) of the Ministry of Science and Technology.
Judgement & order search portal
Click here – https://judgments.ecourts.gov.in/pdfsearch/index.php
Judgement & Orders Search Portal provides 24*7 citizen centric service.
• Free PDF download of more than 1 crore High court Judgement.
• The litigant/public/user can get the authenticated copies of judgements within minutes from this centralised depository of the High
Court judgements portal.
• The portal is accessibility compliant, and the judgments are Digitally accessible for PwD.
• The Judgement search portal is based on the constitutional mandate of the Right to access to Justice which encompasses the right
to access judgment/orders.
Award Details
Name: National Gold award for excellence in providing Citizen Centric Delivery
Year: 2022