The Courts and COVID-19: Adopting Solutions for Judicial Efficiency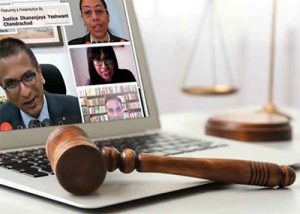 Publish Date: July 4, 2020
Hon'ble Dr Justice DY Chandra chud-a chuan World Bank ah he topic 'Court ho leh Covid19: Judicial Efficiency thlen theih nana hmalakna thahman' tih hmang hian ni 17June,2020 ah thu a sawi a. He a presentation ah hian Judicial lamin India ram chhunga Covid19 kan hma chhawn dana tar langa. India Supreme Court in a limitation period suspend na order a pass thute, interim leh bail order te extension a siam thu te a tarlang. Video conferencing hmanga Court thubuai ngaihtuah neih dan tur kalphung, hearing leh e- filing hman hmawh thlak atana SOP te he hripui laka kan him theih nana duan a ni. e-Committee hmalakna pawimawh tak tak te pawh a sawi lang a, chungtechu:
• Free and Open Source Software case information leh management system mila duan.
• Court awmna hmuna E-Service Centre din
• Traffic dan te nau bawh chhetute tana Virtual Cour thawnthar. An tihsual pawmtute hnena online-a fine pek mai theih dan duan a ni a, pawmlote tana case hawn theihna duh thlanna pek a ni bawk.
• National Judicial Data Grid tih hmasawn niin heath hian ram chhung District, Taluka Court leh High Court a thubuai ngaihtuah mek leh chinfel tawhte dah that a ni a, chungthu buai tete chu hmuh theih a siam a ni.
• Summon thlen tlai tihhmasawn chungchangah NSTEP, GPS hmang software hman tan ani.
• Supreme Court Judgment te tawng danga leh nante, thubuai inang ho chhui chianna atan te, cheque bounce thubuai leh thubuai kalphung inang tlangte track nan Artificial Intelligence (AI) hman ani.
Sawrkar hi thubuai neitu lian ber a nihna angin AI hmang hian an thubuai kalphung tur lo chhui dawnin inremna awmze neiIo ngaihruat zung zung thei turin thurawn a pe. SusanHood, Chief Executive of Her Majesty Courtsand Tribunal Services, Government of UK thusawi sawichhawngin 'Kan kalphung hi kan principle tlukzeta hlui a nih a tul reng rengIo'atia. Technology hian Court-amahni ngeiin lantulna a tiboa. Ram chhung miten dikna chanvo an chan theih nana hmalak zel a ngai a. Inclusive justice pawimawh ziaa tarlang a, e-Court interface hian dikna thlen se la, a duangtute pawn a hmangtu tana awlsam leh hman nuam ngaihtuah ran chungin duang se la tiin a sawi. Kan hmalam huna principles kan zawm turte chu midangte dinhmun hriatthiamna, tlona leh langtlang taka chet a ni. Hemi thleng tur chuan sawrkar, bar, private sector leh mimal te kan inbiak rawn that a pawimawha. Feed back mechanism kan ngaihpawimawh a, digital divide ti reh tura nasa taka hma kan lak a ngai bawk. Chumipiah lamah Stakeholders te kan train a, rualkhai tak leh intluktlanga ramchhunga Court awmten hmala chungin kan data neihte uluk taka kan vawn him atul a ni.